Forget about modernising your kitchen, because 2015 is all about the vintage look. Whether you're after the 50s-style diner look or a 40s-inspired English farmhouse kitchen, you'll be spoilt for choice when it comes to designing your vintage kitchen. If you're unsure exactly how to go about turning your current kitchen into something straight out of the 40s, 50s or 60s, we're here to help! Check our tips for creating your very own vintage kitchen.
---
Open Storage

Whether you opt for glass-front cabinets or open-wall shelving, creating open storage spaces is vital to achieving the vintage look. This enables you to show off all your antique cups, plates, mugs, teapots and other kitchen items from the era your aiming to emulate. If you don't already have a stockpile of vintage crockery, head to your local Maitland antique dealer, or find some online!
---
Paint
Paint is the easiest and most effective way to add vintage charm to your kitchen. Each decade has its own set of unique colour and décor themes:
40s—mostly light green, red, blue & yellow
50s—pastel pinks, powder blues & reds
60s—vibrant blues, greens & yellows
70s—warm earthy orange, yellows & browns
The addition of kitchen wallpaper can also add a great retro feel!
---
Distress

The best thing about going vintage with your kitchen is the furniture. Opt for distressed wood and don't be afraid to pick up second-hand furniture that looks slightly worn—this will only add character. If you're going for a shabby chic look, you can always use sandpaper to rough up your cabinets, tables and chairs.
---
The Little Things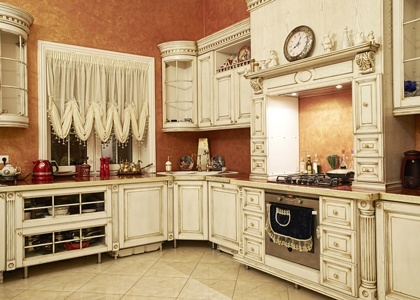 When it comes to giving your kitchen a retro feel, it's all about the little things. From adding old-school appliances and installing patterned curtains, to hanging classic wall clocks and art, your kitchen will need a combination of all these to get that vintage feel. Even adding minuscule things like installing antique handles to your cabinets will go a long way to adding more charm.
---
If you want your kitchen renovated by a professional, we've found a reliable Maitland kitchen expert who'll be happy to help
---
With more than 25 years' experience in designing and installing timber kitchens, Sheldon's Timber Kitchens can take care of your renovation from start to finish. Their services include:
Custom timber kitchens
Cabinetry
Home office furniture
Just tell the Sheldon's Timber Kitchens team what type of vintage kitchen you desire and they'll work with you to come up with a custom design. Visit their LocalSearch profile for their contact details and call them for a quote today!
---
If you're thinking about taking a DIY approach to your vintage kitchen, we've featured a Maitland building supplies warehouse for you to stock up on materials
---
The NHS building supplies warehouse has a huge range of top-quality products available that would be perfect for your vintage kitchen. Their products and services include:
Timber flooring, doors & moulding
Building supplies
Convenient drive-through pick-up service
With drive-through, pick-up and onsite delivery available, call NHS for a free quote today! Check out their LocalSearch profile for a full list of their products and services.
---
Want some more tips on renovating your kitchen? Check out these articles: