Before we are truly awake, we have already decided on which type of coffee we are going to enjoy – the usual, right? When you want to get moving, this makes perfect sense, however, with so many great types of coffee available, you should think about expanding your coffee horizons.
When you are ready for your cup of the day, experiment a little with one of the following rich, exotic types of coffee.
Types of Coffee in Australia
You don't have to stick with that cuppa Belaroma day after day! With so many varieties available to Aussies, you should try something new each week.
Espresso
Espresso is a very strong black coffee that is made when steam is forced through ground coffee, not boiling water. Because it is so strong, it is often served in tiny cups. Don't let the size deceive you! Espresso is quite strong, and you sip it, not gulp it. Some people believe that espresso is an acquired taste.
Long-Black/Americano
A long-black, sometimes referred to as an Americano, is a double espresso extracted over very hot water. How much water varies from barista to barista, but it is generally a full cup. Since a long-black is nearly boiling, some baristas add a bit of cold water to prevent burned tongues.
Latte
Always a favourite, if strong coffee flavours are, well, too strong for you, consider a latte. This is an espresso that is made with hot steamed milk. It has a more mild, milky type of flavour than a cappuccino.
Mocha
Many youngsters start off their coffee habit with a mocha. This is an espresso drink that is made with steamed milk, chocolate syrup and has a foamy top.
Flat White
This drink has become very popular lately and it's easy to understand why. A flat white has an even mix of liquid milk and espresso. It's a smoother version of a double espresso and this mix helps to dilute the strong coffee flavour.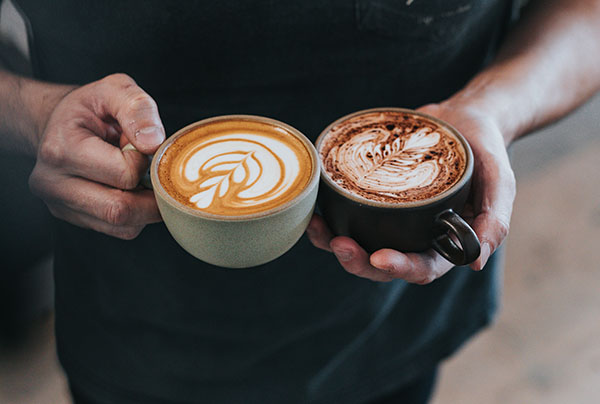 Macchiato
If the barista asks you for one or a double shot, they are referring to the small amount of frothed milk that is added to an espresso to create a macchiato.
Piccolo/Piccolo Latte
Similar to a latte, a piccolo is served in a smaller cup. It's a shot of very strong espresso and a small amount of frothed milk.
Affogato
This is more of a dessert than a morning drink, but it's a must try! Depending on the barista, an affogato is a scoop of vanilla ice cream or gelato, that is covered by a shot of espresso. Some baristas also add a shot of amaretto.
A Few Fun Facts about Coffee
Here are a few facts about coffee you might not have been aware of:
Coffee beans were originally chewed, not brewed.
The "beans" from coffee trees are actually seeds, not beans.
Brazil grows more coffee than any other country.
Most energy drinks don't contain anywhere near as much caffeine as Starbucks coffee does!
While Americans buy more coffee than any other country, Aussies don't buy cheap or what might even be considered average coffee.
When it comes to types of coffee, make "Don't be a bore, explore!" your new mantra!
If you're ready to try one of the delicious drinks above, find a local coffee shop and take a moment for yourself to enjoy something new
Check out these similar blogs:
Find the best
Cafes & coffee shops
in Australia