Have a family? Consider one of these playful breeds.
---
 Labrador

Labradors are well known to be bubbly, playful and eager to please. They love to play on both land and in the water, making them the perfect breed for an active family.
Beagle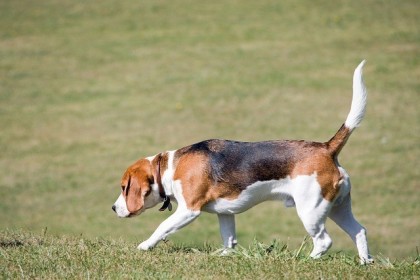 Known for their energetic personalities, beagles fit in well with families and are never too tired to play. However—be weary—due to being a hunting dog, beagles have been known to follow their noses and wander away.
Golden 

r

etriever

Golden retrievers are known to be intelligent, loving and a popular choice for families across the world. This breed will become your child's new best friend in no time!
---
Live a sporty lifestyle? Check out these active dogs!
---
 Australian kelpie

For a dog that craves activity, choose an Australian kelpie. Energetic, friendly, loyal and intelligent, this breed is perfect for individuals who love to exercise with canine company.
Siberian husky

The Siberian husky is ideal dog for experienced owners who follow active lifestyles. However, due to it's highly intuitive nature and thick coat, it can be a challenging breed to own, so be sure to take this into account!
Border 

c

ollie

Originally bred to herd and control sheep, border collies are packed with endless energy and stamina. They are quick learners, loving and highly-intellegent.
---
Working from home? Choose a sociable dog.
---
 Dachshund

If you're looking for a breed that's devoted, playful and clever, consider homing a Dachshund. They adore being surrounded by company, and are extremely loyal to their families.
Newfoundland

If you love large dogs who craves companionship, consider a Newfoundland. Originally bred as a working dog, they're known to be gentle, trainable and sweet-tempered.
Staffy

A popular choice in Australian households, staffies are a great breed to home. They love to have company, are very loyal and show a lot of affection to their owners.
---
Get a checkup
---
After welcoming any new pup into your home, there's a number of things you need to do—and that includes visiting a vet! For friendly advice, checkups as well as a range of veterinary services, visit these practices across NSW.
---
Stella Street Veterinary Clinic
For a team of caring vets, be sure to take your new family member to Stella Street Veterinary Clinic. Located in Long Jetty, this professional clinic offers a full list of services, including vaccinations, dentistry, desexing and surgery. Whether your pup needs his first round of immunisations, or you'd just like to get them checked, the friendly vets at Stella Street Veterinary Clinic can help you out.
Where: 16 Stella St Long Jetty NSW 2261
Near to Dubbo?
Pet Medical Centre
If you're looking for a vet in the heart of Dubbo, who puts your pup's wellbeing first, visit Pet Medical Centre. Providing excellent care and a range of services, it's no wonder this location is a popular choice for pet owners across the region. Whether your furry friend needs an X-ray, checkup or dentistry service, the vets here are able to help. For more information on what Pet Medical Centre can do for your animal, give them a call today.
Where: 27 Cobra St Dubbo NSW 2830
---
WHAT'S YOUR STORY?
Have we missed your favourite dog breed? Tell us about them in the comments below!