The Gold Coast is bustling with a variety of fantastic bars that serve up the finest of craft beer from across Australia and around the world. Check out our top 4 locations to visit on the coast for the ultimate brew!
The Cambus Wallace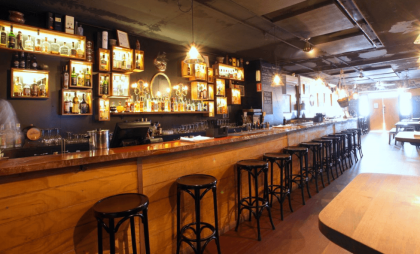 First up is The Cambus Wallace. This unique location in Nobby Beach is well-known for their expert taste in alcohol – so you know you're guaranteed a good brew. Stocking only the finest craft beer, step inside this modern yet rustic location and scan over their delectable beverage list, which will impress even the most educated of connoisseurs. If you're one for ice-cold beer straight from the tap, check out the blackboard or ask the staff what they're pouring today. Happy with a bottle? We recommend Blue Moon; this Belgian-style wheat ale from the USA is full in flavour and tastes perfect when it's poured into a glass and topped with a slice of orange.
Where: 4/2237 Gold Coast Highway Nobby Beach, Gold Coast QLD 4218
Ze Pickle


Ze Pickle is at the forefront of "real" craft beer on the coast and certainly not one to be missed. This modern, hip joint in the heart of Burleigh represents everything you've ever dreamt about – and more – when it comes to beer. Step inside Ze Pickle and choose from their 12 brews on tap, all of which feature pretty unique pullers; from a blonde barbie, retro microphone and vintage gameboy, to a grenade and hand gun, choose your beer by the brand, or simply by the tap for a bit of fun. Religiously stocking breweries including Two Birds, 4 Pines, Young Henrys and Green Beacon, whether you're looking for something you love or a beer you have never tried before, you'll be sure to find it at Ze Pickle. Lost on what to choose? Don't hesitate – ask the awesome crew behind the bar what they'd recommend.
Where: Corner of Connor Street Burleigh Heads QLD 4220
Bine Bar & Dining


Visit Bine Bar and Dining if you're after a bar that is as good as the beer it serves up. This social hub in Nobby Beach is somewhat a local landmark in the area, and a popular spot for both locals and visitors to gather when the nights draws in. Stocking an extreme variety of Australian craft beers, choosing a drink at this casual location is quite like ordering a meal at a Michelin star restaurant. From pilsners, golden ales, lagers and stouts, there quite literally is a beer for everyone at Bine Bar and Dining. Don't know where to start? Pop into this epic bar and talk to the relaxed staff about their selection of fantastic craft beer – it's some of the best around!
Where: 1/28 Chairlift Avenue Mermaid Beach QLD 4218
Longboards


Everybody knows that beer pairs perfectly with burgers, so if you're feeling hungry and don't want to sacrifice your craft beer (why should you?) make sure you head to Longboards. Here you can try a wide selection of carefully chosen beers from across the country including local favourites such as BIGHEAD and HEF from Burleigh Brewing Company. Choose from their ever-growing beer list or ask the friendly and knowledgeable staff what beer they recommend. It doesn't stop at craft beer mind you, this eatery and bar is famous for their crazy range of melt-in-your-mouth burgers that have crowds gathering from far and wide. Whether you're up for a meaty challenge or keen to enjoy something alongside your ice-cold brew, make Longboards your go-to location for craft beer in Surfers.
Where: Hamilton avenue & Northcliffe Terrace Surfers Paradise QLD 4217
So you now know where to head for craft beer, but what about coffee? Check out these awesome cafes on the Gold Coast for the best coffee around.
Have we missed your favourite craft beer location? Let us know where you treat your beerbuds on the Gold Coast below!